Friday, April 24, 2020
Time Spent with Media in China Grows amid COVID-19 Pandemic
Our Estimate for Time Spent with TV in 2020 Is Revised Upward by 5 Minutes
April 24, 2020 (New York, NY) – Over the course of just a few months, the coronavirus has changed how consumers in China digest media. As adults are taking additional precautions and continuing to stay home, they are spending more time with both digital media and TV. In fact, we increased our projections for time spent with digital in China but lowered those figures for print.
In total, adults will spend 6 hours, 58 minutes (6:58) per day consuming media, a 4-minute increase from our March 2019 forecast. We anticipate that 2:45 of that time will come from traditional media (TV, print, radio), and the remainder will come from digital.
"Because people in China have been staying at home during the COVID-19 pandemic, we expect increases in time spent with TV and digital media in 2020, as people seek out news and entertainment; but the impacts don't stop there," eMarketer forecasting analyst Brian Lau said. "Quarantines have pushed adults in China to spend even more time on internet-connected activities and has accelerated the shift toward digital. We expect this behavior to continue well after the pandemic."
Television
We have increased our estimates for adults' average time spent watching TV in China to 2:30 in 2020, up from 2:25 expected in our March 2019 forecast. Although time spent with TV will grow by 1.3% in 2020, it will once again decline in 2021, by 3.0%, as routines return to normal.
The increase in time spent with TV will more than offset the continued decreases in time spent on newspapers and magazines, putting traditional media time in positive growth territory in 2020 after at least five years of declines. However, this trend is not expected to last, and traditional media time will return to negative growth in 2021 and 2022.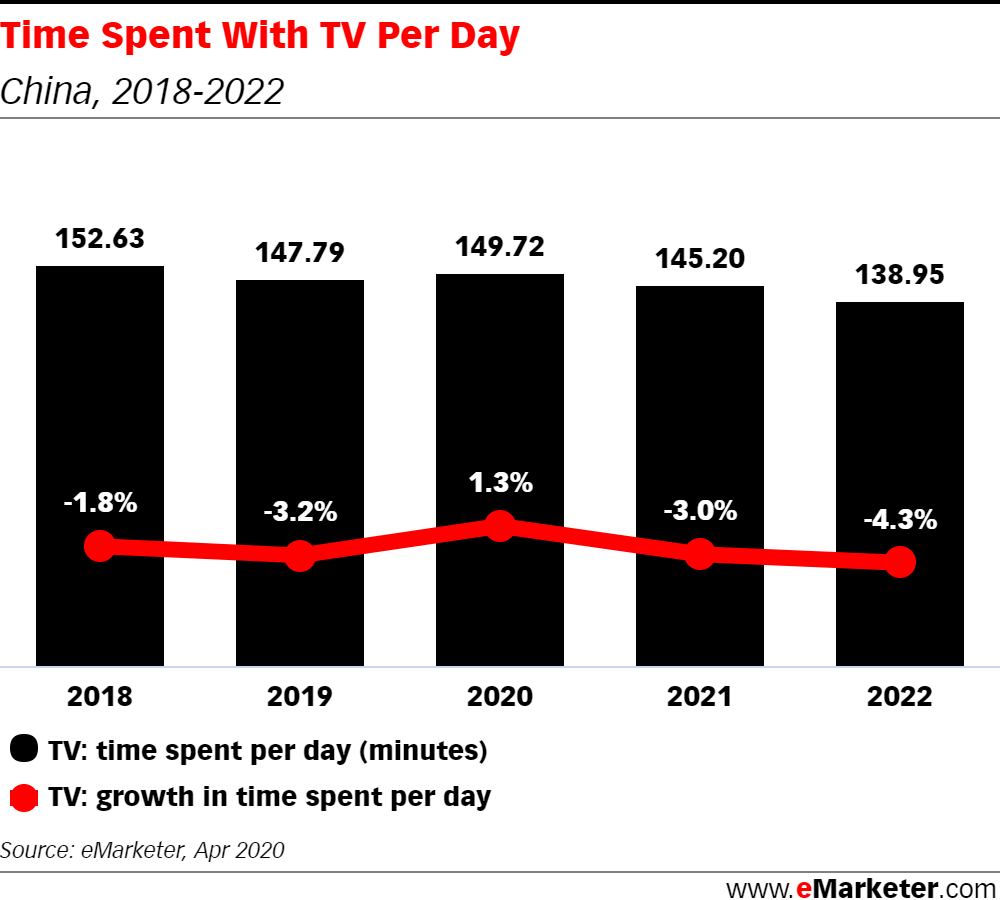 Print
For 2020, we estimate that adults in China will continue to spend less time reading newspapers and magazines. We will see a 9.1% decrease in time spent with newspapers and an 8.3% decrease for magazines.
Digital
In China, digital accounts for most of adults' time with major media. They will spend 4:13 with the medium in 2020.
We expect that mobile internet usage will continue experiencing double-digit growth in 2021 (13.2%), reaching 3:22. After this year, growth in usage will return to a trajectory closer to what we estimated before the impacts of COVID-19. However, it will grow from a higher base.
Meanwhile, time spent watching digital video will also increase as people watch movies and TV shows while social distancing. We estimate that time spent with digital video among the population will grow by 16.5% in 2020, up from a previously estimated 13.7%. This year, adults in China will spend an average of 1:24 each day watching digital video.
Methodology
eMarketer's forecasts and estimates are based on an analysis of quantitative and qualitative data from research firms, government agencies, media firms and public companies, plus interviews with top executives at publishers, ad buyers and agencies. Data is weighted based on methodology and soundness. Each eMarketer forecast fits within the larger matrix of all its forecasts, with the same assumptions and general framework used to project figures in a wide variety of areas. Regular re-evaluation of available data means the forecasts reflect the latest business developments, technology trends and economic changes.
About eMarketer
Founded in 1996, eMarketer is the first place to look for research about marketing in a digital world.  eMarketer enables thousands of companies worldwide to understand marketing trends, consumer behavior and get the data needed to succeed in the competitive and fast-changing digital economy.  eMarketer's flagship product, eMarketer PRO, is home to all of eMarketer's research, including forecasts, analyst reports, aggregated data from 3,000+ sources, interviews with industry leaders, articles, charts and comparative market data. eMarketer's free daily newsletters span the US, EMEA and APAC and are read by more than 200,000 readers globally.  In 2016 eMarketer, Inc. was acquired by European media giant Axel Springer S.E.