Wednesday, February 12, 2020
US Political Ad Spending to Hit Record High
Facebook dominates digital with nearly 60% share
February 12, 2020 (New York, NY) – As campaigning for the 2020 presidential election heads into its final months, political ad spending will hit an all-time high.  The highly partisan political environment is driving more Americans to donate money to their preferred candidates than in past election seasons, which in turn is funneling more money into advertising.
In its first forecast on political ad spending, eMarketer includes spending on federal, state and local ads, including PAC ads for candidates and lobbying activities.  It also includes ads for legislative or regulatory issues in which there is a specific call to action like voting or calling a Congressional representative.  Spending is counted in the year the ad runs.  It does not include self-promoting ads from brands loosely tied to political causes or ideas.
TOTAL POLITICAL SPENDING
Total political ad spending in the 2019/2020 election cycle will reach $6.89 billion.  Political ad spending fluctuates dramatically from year to year, spiking in even years and dipping in odd years.  This cycle's spending is 63.3% higher than spending in the 2015/2016 season, underscoring the intensity of not only the presidential race, but races for congressional seats as well.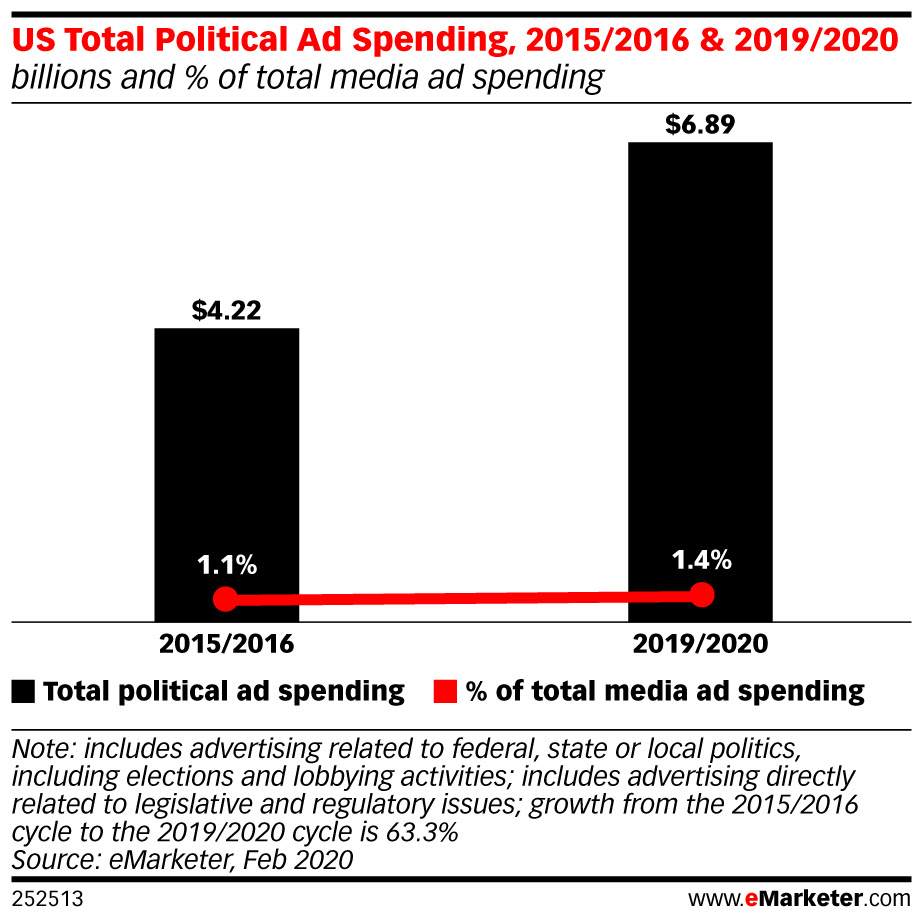 TELEVISION
TV still dominates political advertising.  This cycle, it will reach $4.55 billion.  That means in the 2019/2020 cycle, spending on political TV ads will account for 3.2% of all TV advertising and 66.0% of all political ad spending.  TV's share of political advertising is up a bit from the prior election year, as it takes share from radio and print.
"Political spending floods the TV airwaves during the last weeks before the election, raising prices and crowding out other advertisers," said eMarketer forecasting analyst Eric Haggstrom.  "Despite cord-cutting and declining viewership, TV still offers strong reach, particularly among older Americans who are likely to vote. The vast majority of this spending goes to local broadcast or cable/satellite providers, as political advertisers focus on states, or even ZIP codes, that can swing an election."
DIGITAL
Political spending on digital platforms is far less than on TV.  In the 2019/2020 election season, political digital ad spending will grow to $1.34 billion.  It makes up 19.4% of all political advertising and 0.5% of all digital spending.  Digital jumps 203% over the 2015/16 presidential election season, when spending was $440 million.
"One of the key benefits of digital advertising over TV is its targeting capabilities.  Granular demographic, audience and list-based targeting allows political advertisers to efficiently reach the right people with the right message," Haggstrom said."
It's widely known that Google and Facebook control 60.8% of the total US digital ad market.  When it comes to political advertising, the duopoly has an even tighter grip, with a combined 77.6% this cycle.
Facebook is the dominant digital platform for political ads, capturing a 59.4% share during the 2019/2020 election cycle.  That equates to $796.8 million*.
"Facebook offers reach, targeting capabilities and ease of use that appeal to political advertisers," Haggstrom said.  "Candidates can more quickly and easily send ads to potential supporters compared with TV or radio. In a competitive election, timeliness, efficiency and relevancy are incredibly important."
Google is No. 2 among political advertisers, capturing 18.2% of all digital political spending during 2019/2020.  That equates to $243.7 million.
"Google has a smaller display business overall than Facebook, and its relatively lower political ad revenues correspond in part to its smaller display footprint," said eMarketer principal analyst Nicole Perrin. "Facebook is also continuing to allow a range of targeting options for political ads, including custom audiences and lookalike targeting, which Google has disallowed," Perrin said.
While eMarketer does not break out Google's political ad revenue by format, we know most money spent on display ads goes to YouTube.
"YouTube is popular because campaigns can run the same or similar ads that they are running on TV, while reaching a different audience," Haggstrom said.  "Additionally, YouTube allows candidates to test and experiment with various ads before running them on TV."
Search spending on Google is fairly steady throughout the election season, as candidates seek to have their names appear at the top of search results.  Display and video ad buying usually spikes a bit closer to the election, as campaigns buy ads to persuade voters to cast ballots.
*eMarketer's figures for Facebook political ad revenues vary from those shown on its Political Ad database because the database includes spending that Facebook considers a "politically sensitive topic" but does not meet eMarketer's definition of a political ad.
Methodology
eMarketer's forecasts and estimates are based on an analysis of quantitative and qualitative data from research firms, government agencies, media firms and public companies, plus interviews with top executives at publishers, ad buyers and agencies. Data is weighted based on methodology and soundness. Each eMarketer forecast fits within the larger matrix of all its forecasts, with the same assumptions and general framework used to project figures in a wide variety of areas. Regular re-evaluation of available data means the forecasts reflect the latest business developments, technology trends and economic changes.
About eMarketer
Founded in 1996, eMarketer is the first place to look for research about marketing in a digital world.  eMarketer enables thousands of companies worldwide to understand marketing trends, consumer behavior and get the data needed to succeed in the competitive and fast-changing digital economy.  eMarketer's flagship product, eMarketer PRO, is home to all of eMarketer's research, including forecasts, analyst reports, aggregated data from 3,000+ sources, interviews with industry leaders, articles, charts and comparative market data. eMarketer's free daily newsletters span the US, EMEA and APAC and are read by more than 200,000 readers globally.  In 2016 eMarketer, Inc. was acquired by European media giant Axel Springer S.E.